As its name suggests, the electronic bagpipes are an electronic instrument intended to mimic both the playing style and the tone of conventional bagpipes.
In most examples, the melody is played using a simulated chanter.
An automated harmonizing drone or drones is a common feature.
Some models are equipped with simulated bags that allow players to maintain and adjust their tones in the same way that bag pressure would with traditional bagpipes for sale.
Before You Continue Reading…
Interesting Bagpipe Resources:
Title
RG Hardie Bagpipe Twist Trap Practice Chanter, National Piping Center of Scotland Tutor Book with 2 Quality Scottish Reeds Breathable Case
Last update on 2023-12-10 / Affiliate links / Images from Amazon Product Advertising API
Different electronic bagpipes have been built to match the sounds of all sorts of traditional bagpipes across the globe.
Examples include the Great Highland bagpipe (piob mhor) of Scotland, Ireland's uilleann pipes, the Galician gaita, the Italian zampogna, the Swedish sackpipa, and the French cornemuse.
When Did the First Electronic Bagpipe Occurred?
Electronic bagpipes are no longer a curiosity; ever-growing numbers of players use them for both practice and performance.
They have both professional and amateur devotees.
The first electronic bagpipes were likely produced in 1962.
That's the year that the Electronic Musical Instrument Manual noted the appearance of transistorized electronic bagpipes.
However, the Manual did offer the qualification that there was a single instrument being manufactured at that time.
This suggests that the offerings available in 1962 were limited and somewhat crude.
The Practical Electronic Bagpipe from the 70s
Bazzell Ray Cowan, a piper and electronics engineer from Austin, Texas, developed a practical electronic bagpipe in the late 70s.
It produced an authentic pipe sound, and Cowan named his creation the Bagpipe.
When interviewed about the instrument in 1993, Mr. Cowan revealed that he was inspired to start the project by a competitive bet made with another piper during a wedding.
Cowan's first version included a chanter (i.e., melody pipe) with gold-plated contacts linked with a motherboard, speaker, and transistors.
A six-volt battery provided power, and the entire creation was housed in a bag of extruded plastic, which closely mimicked a regular bagpipe bag in size and shape.
Continually tinkering on the device and upgrading it as technology advanced, Cowan refined and downsized his instrument over the decades to come.
By the early 90s, he had reduced the package to a six-inch by four-inch plastic box at the top of a chanter.
It was powered by a nine-volt battery and included an integrated two-inch speaker.
Cowan died in 1996, leaving behind an iconic creation that had a huge influence over the entire field of instrument design.
Even today, the Bazpipe is a significant model for modern electronic pipes.
The World's First Electronic Irish Bagpipe
George H. Boyd was another early pioneer.
While his instruments lacked the Bazpipe's portability, they delivered a more authentic tone.
Boyd was responsible for creating the world's first electronic Irish bagpipes (uilleann), though he did too by constructing only a single prototype.
Developments in the field of electronic piping were shared and reported in a variety of different publications in the 1980s.
Keltronics started selling electronic bagpipes in 1981.
While their advertisements claimed to offer "the world's first electronic bagpipes," as recounted above, they were beaten to the mark by innovators like Cowan and others.
The 80s also saw the introduction of the Ross Technologies Programmable Electronic Bagpipes.
Though this instrument's form factor was similar to the Bazpipe, it had the ability to shift keys to accompany a wider variety of other instruments.
Ross Electronic Bagpipes
Ross's second-generation electronic pipes were capable of emulating other instruments beyond the Scottish bagpipes.
Other electronic developments included MicroPipes, a practice bagpipe chanter that plays in headphones only, and the MidiPipes, capable of outputting in MIDI format.
Commercial developments continued apace through 1991.
That was the year Anders Fagerström started offering a practice chanter emulator based on the Scottish Highland pipes.
Fagerström would go on to develop "full set" emulators and emulators based on the Swedish sackpipa and the Galician bagpipe.
Interesting Bagpipe Resources:
In Germany, Manfred Deger created a Scottish Highland pipe emulator that boasted MIDI capabilities.
Deger has refined and expanded his instrument's capabilities since then.
Alberto Arias, Jose Angel Hevia, and Miguel Dopico successfully secured the first patent for electronic bagpipes in the early 90s.
In 1998, Hevia released a CD titled "No Man's Land," which sold over two million copies.
From this point on, the electronic bagpipe was firmly established as a significant force in the European musical discourse on bagpipes.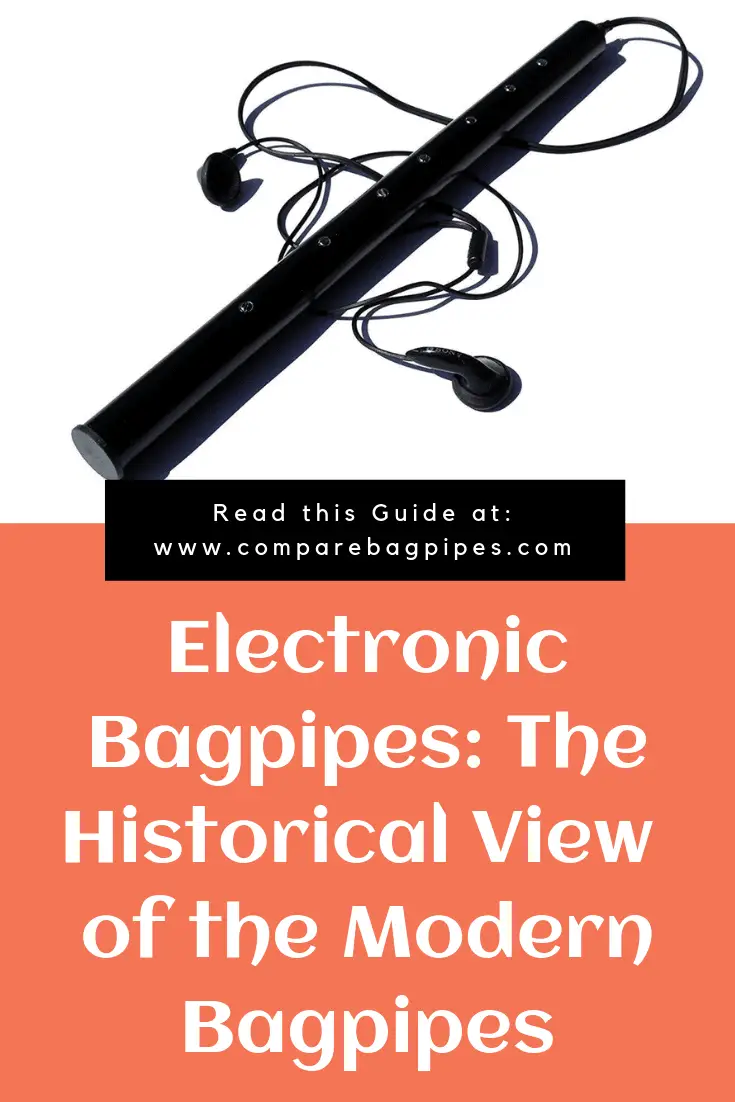 The Redpipes Electronic Bagpipes
Rolf Jost of Germany created a similar instrument in 2005 that also featured a pressure-sensitive bag.
Sold under the name Redpipes, the line features models to emulate a range of different traditional bagpipe forms.
vPipes, an Emulator Modeled on the Irish Uilleann Pipes
Jose Antonio Garcia and Ramon M Castro collaborated to produce the innovative vPipes, an emulator modeled on the Irish uilleann pipes.
The vPipes can model advanced features like replication of the caoine or "Cry."
This note-bending movement of the fingers is a highly distinctive feature of Irish music.
The vPipes do not use General MIDI, replacing it with a proprietary "Emulation Mode" interface created by the development team.
The New Modern Development of the Electronic Bagpipes
Recent developments have allied electronic piping to the very latest hardware.
Michael Eskin, a Piper and programmer from California, has created multiple instrument emulators for iPad and iPhone.
His software instruments include Scottish Highland pipes, smallpipes, Irish uilleann pipes, and Swedish sackpipa.
Eskin has also created iPad regulators that can be used to coordinate uilleann pipe apps.
2016 saw the creation of an entirely new field of electronic bagpipe creation based on optical fingering detection, resulting in the so-called 'a-pipes.'
Some aspects of the field embrace Open Source principles, including the OpenPipe project and eChanter.
In both cases, technically skilled individuals are encouraged to use the popular Arduino board to build unique customized electronic bagpipes.
Hevia Electronic Bagpipes
Hevia was the first musician to use the electronic bagpipe as a performance instrument.
His CD "No Man's Land" has sold over two million copies since its release in 1998.
The versatility of the electronic bagpipe has made it a popular instrument throughout Europe.
Sean Folsom, a one-time member of California's Shiela, na Gig, became another early advocate for electronic bagpipes.
Folsom added a Bazpipe to his world bagpipe exhibition in the early 90s.
Electronic Bagpipes Music
Musicians and groups currently using electronic bagpipes in their music include Korn, Eluveitie, Ithilien, Gaelic Storm, Frunkulus, the Dangleberries, Red Hot Chili Pipers, Peter Purvis, Seer, Hevia, Konan, and Nightwish.
Electronic Bagpipes Amazon
If you are serious about playing on electronic bagpipes, take a look at the 3 affordable electronic bagpipes on Amazon below.