A sporran is a pouch attached to a man's kilt, and it can be made of various materials. It is usually attached around the waist and made of either leather or fur.
The ornamentation usually matches the ornamentation on the kilt, and they are typically worn in the groin area. Looking for the best kilt sporrans on the market is easy, however, and below are just some of them.
#1TOP
1) Double Embossed Scottish Black Leather Kilt Sporran
Because it is made of real leather, it is often considered one of the best Scottish sporrans on the market. It is double-stitched and fits waists from 30 to 48 inches.
It also comes with a chain and a belt that is adjustable, and it is roughly 7" x 8" in size.
The pros of this kilt sporran include:
Large enough to handle keys, phone, and wallet;
Very reasonably priced;
Lightweight and portable.
The cons include:
Some users say that its look is not authentic.
2) Celtic Embossed Sporran with Latch Pin and Kilt Chain
This is a high-quality sporran that fits almost all waist sizes from 28 to roughly 50 inches. It is made of real black leather and embossed with decorative designs, and it is a stylish addition to a bagpipers wear.
The strap is a brass chrome finish, and the latch pin does a good job of keeping it securely fastened. It is also very inexpensive.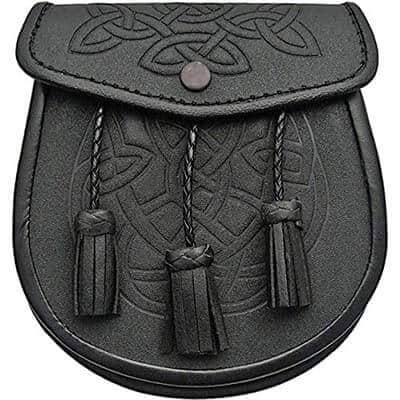 The pros of this sporran include:
A great deal for the money;
High-quality leather made to last;
Large capacity.
3) Black Cowhide Leather Kilt Sporran
A very attractive sporran, this one is made of real leather and includes three tassels for decoration.
It comes with a high-quality belt and has thin fur on one side for a more unique look. It is roughly 7" by 8" and is lightweight as well. In other words, it is perfect on a kilt!
The pros of this sporran include:
They are very attractive;
They are made of 100% real leather;
The belt is easy to attach.
The cons include:
Some customers do not like the fur look.
4) Scottish Sporran with Fox Fur and Chrome Thistle
This is a full-dress sporran made of real fox fur and in a nice Celtic design. In fact, it combines real fur with real leather to produce an item guaranteed to last a long time.
It is roughly 7.5" by 10" and comes with a free soft leather belt and chain.
The pros of this sporran include:
It is not cheaply made, so it lasts for a while;
Tassel chains and caps are made of nickel with chrome plating;
The leather used is very soft.
The cons include:
It may be a bit pricey for some buyers.
5) AAR Sporran with Welsh Dragon Design for Kids
This sporran comes in either black, brown, or white fur and has two fur tassels for an eye-catching look. It is made for children and has a thistle badge with a chrome finish.
It is roughly 5.5" x 7" in size, so it isn't as large as an adult sporran. In addition, it is so attractive that it looks great with or without a kilt.
The pros of this sporran include:
It costs under $20, so it is reasonably priced;
It is very popular even with very young children;
Its soft fur never sheds.
The cons include:
It is only made for very young children and not older ones.
6) Leather Sporran with Gold Cross Design
Shopping for the best sporrans naturally puts you in touch with some fancy products and this one is included in that category.
With a beautiful gold cross in the middle of the front flap, this sporran is real black leather and comes with a chain belt. It has a latch closure, and the belt fits waists up to 48" around. It is approximately 7" x 8" in size.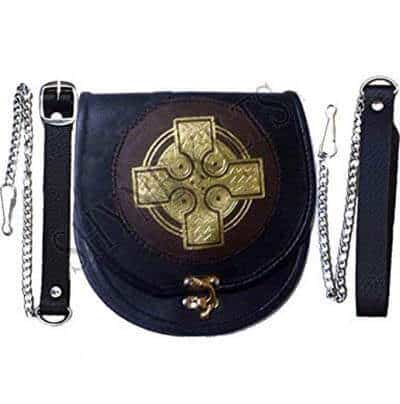 The pros of this sporran include:
High-quality real leather;
An eye-catching gold cross design;
Very reasonable price.
The cons include:
Some customers think that the cross is poorly made.
7) Tartanista Men's Scottish Kilt Sporran with Pin Lock & Tassels
This is a black, real leather sporran with double-plaited decorations on the flap and body. It measures 8" x 8" and uses a pin lock to close the front flap.
It also has three tassels in the front and comes with a free belt. When you're looking for the best sporrans for sale, this one should definitely be considered.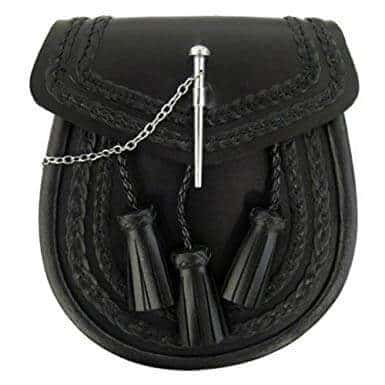 The pros of this Scottish kilt sporrans include:
It comes at a very reasonable price;
The material is heavy and holds up well;
It offers great value for the price.
The cons include:
It is not big enough to fit around some people's waists.
8) Black Leather Kilt Sporran with Tassels
This is a basic black leather sporran with three tassels on the front. It is solid black with no designs, so it is very elegant-looking.
It also costs under $15, so it is perfect for those on a budget. It is the perfect size at 7" x 8," and it has a secure stud on the flap that securely closes it every time.
The pros of this sporran include:
It is big enough to carry your wallet, cell phone, and other items;
It is very well made and built to last;
It is affordable for everyone.
The cons include:
Some customers say that it has a "cheap" look.
9) Deluxe Scottish Sporran with Rabbit Fur
If you're on the search for the best kilt sporrans, you can't go wrong with leather sporran. This sporran is made of 100% real leather and grey rabbit fur for extra attractiveness.
A total of three chained tassels with ball caps are attached to the front, and it comes with a free chain strap. It is also 7" x 9" in size, so it is quite large.
The pros of this sporran for sale include:
100% real leather, so it is made to last;
Handmade sporran that is high in quality;
Real chrome Celtic cantle.
The cons include:
Some customers have concerns about the chrome plating holding up.
10) Brown Leather Scottish Kilt Sporran
Made of high-quality brown leather, this sporran has three tassels in front and closes with a secure snap. The leather is top-notch, and the sporran itself is extra large for convenience.
It is definitely a sporran to consider when you're researching the best kilt sporrans on the market. Often are available sporrans for sale too.
The pros of this sporran include:
It is large enough to fit a lot of different items;
The chain is lightweight and portable;
It is reasonably priced.
The cons include:
Some users say that they got Velcro instead of a button on the flap.
A sporran is part of traditional male Scottish Highland attire and is essentially a pouch that functions similarly to pockets when you have a kilt that has no pockets. Sporrans are generally made from either fur or leather. The design and ornamentation are picked to suit the formality and occasion the kilt is worn.
What is a Sporran Used for
Originally, a sporran was just a little pouch for storing things in. As noted above, kilts do not have pockets, and as it's not very masculine to carry a handbag, a sporran does the trick.
In the past, sporrans were also a great way to showcase your status and wealth, which is why they led to becoming more and more elaborate. The metallic part of the sporran is known as a Cantle and was used as a lock. However, over the years, these have become more about showing off.
You will find that modern sporrans are used very practically for holding items like wallets, money, mobile phones, sets of keys, snacks and just about anything else you can imagine that you wouldn't want to carry in your hands.
There is a wide variety of sporrans available to different occasions and whether you have a day wear, evening wear, semi-formal or formal kilt.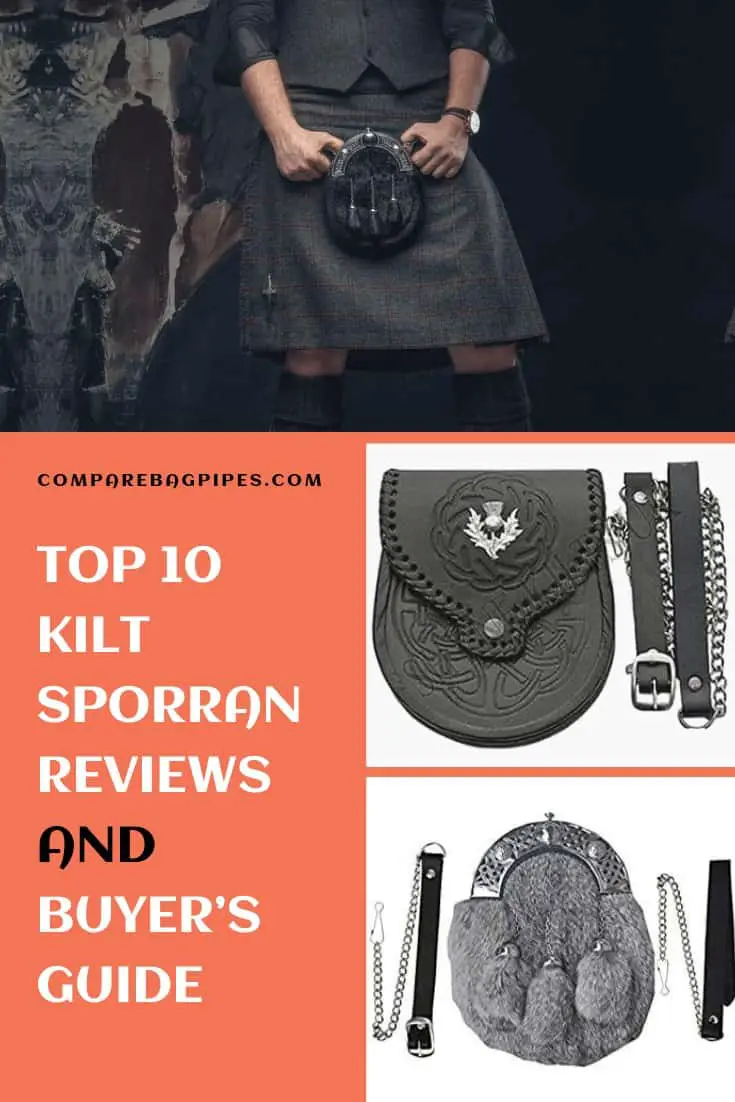 How to Wear a Sporran and Knife With Kilt
Traditionally, as part of full Scottish Highland attire, a stabbing knife is known as a Sgian Dubh, is included. This features a fixed blade that does not fold away. Its blade is normally less than 3-inches.
As its name means black dagger or black knife because it was hidden away, which went against the custom in the Highlands of guests placing their weapons at the entrance to a property before going in.
There is a misconception that because of its name that it should be kept inside the sporran. Normally, though, it is kept with the blade in its sheath, inside the top of your kilt hose or sock, on your dominant hand's side.
Therefore, if you are right-handed, you'd keep it in the hose on your right leg, for example. The sporran is located on the front of the kilt around the groin and attached to a chain or leather strap.
How to Wear a Kilt Belt and Sporran
If you are looking to dress as traditionally as possible, you don't really need a kilt belt. As your kilt should stay up without the need of a belt. If you are wearing traditional clothing associated with Argyll or some other areas, however, you may choose to wear a kilt belt for decorative purposes.
Particularly if your kilt is for semi-formal or day wear. The top of your sporran needs to be at least 6-inches from the top of the kilt. It should then be around 3-inches lower than the buckle of the kilt belt.