The kilt Jacket is an important aspect of the Scottish tradition from time immemorial. Particularly for men's clothing, there are a lot of different aspects of the wardrobe that reinforce the culture and heritage of Scotland. 
People of Scottish descent wear their traditional garb with much pride and excitement showing not only where they came from, but also their undying loyalty and patriotism.
In recent years, more people have started to learn to play the bagpipes and have sometimes chosen to wear Highland Scottish dress as a salute and an acknowledgment of where the bagpipes originated from. No matter who is wearing it, understanding the guidelines about what is to be worn when is important to know before showing off your Scottish ensemble.
Important Notes About the Best Kilt Jackets
No matter who is wearing it, understanding the guidelines about when and how to wear a kilt is important before showing off your Scottish ensemble. It is also particularly important to note that not all jackets will look good with a kilt. Most regular sports coats are too long which would hide own embellishments and accessories such as the sporran and the kilt itself.
Due to this, it is important to purchase a good Scottish Kilt Jacket to ensure that you are paying the proper respect to this country and showing off all aspects of your outfit correctly. Below is some basic and detailed information about kilt jackets which will allow you to ensure that you are indeed portraying the Scottish tradition accurately and correctly.
In this article, we will take a look at some basic and detailed information about kilt jackets. This will ensure you that you are truly and accurately portraying the Scottish tradition.
Types of Kilt Jackets
1) Prince Charlie Kilt Jacket
The Prince Charlie Jacket is a more formal and dressy choice that should be reserved for formal, evening events. This jacket is comparable to the tuxedo in America and is worn with a vest and a bowtie that really matches it.
This jacket is usually worn in the black or red and comes embellished with scalloping details as well as silver buttons. The front of the jacket is shorter with longer tails in the back. 
The tails are also decorated with silver buttons adding the formality of the Prince Charlie Jacket. Other dressy accessories should accompany this jacket and, of course, this jacket is worn with a traditional kilt. 
This jacket can usually be found for a price between $200.00 to $300.00 depending on what accessories are included with the jacket. This jacket is generally made up of wool with satin lining on the inside. Overall, this jacket is elegant and straightforward truly displaying the Scottish tradition and pride at its best.
2) Argyll Kilt Jacket
With less formality than the Prince Charlie Jacket, the more familiar Argyll Jacket illustrates its versatility in its use being appropriate for a wedding, Highland Games or even just a day wear.
Depending on the color and material it is made of, this jacket can be worn with a shirt and tie for less formal events. If your Argyll Jacket is particularly dressy, it can be worn with a bow tie for more formal events. 
This jacket is the same length all around falling to just below the waist. This too comes embellished with silver buttons on the front of the jacket, the sleeves of the jacket and the back of the jacket. 
It is made of either wool or tweed with lining on the inside. It is common for these jackets to also have two pockets inside the jacket for storage of smaller objects. 
What makes this jacket really stand out is its cuffs which include a variety of different options. A few examples are the Argyle Cuffs or the Crail Cuffs. With a price range between $150.00 and $250.00, this jacket is also worn with the traditional daytime accessories along with a kilt.
3) Tweed Kilt Jacket
A much more casual jacket is the Tweed Kilt Jacket which comes in a variety of neutral colors including gray, black and brown. This jacket is truly only meant for casual day wear and is very comparable to a casual sports coat in America. It is generally preferred for an outdoor daytime informal event.
The buttons on a Tweed Kilt Jacket are darker actually blending with the color of the jacket itself taking away from its visibility.
There are only button accessories located on the front of this jacket, not on the back. This jacket can be worn with a five button vest if a person prefers. It is worn with a casual white collared shirt and a tartan tie. 
The sporran that accompanies this jacket is the more sporty leather sporran. This jacket is priced around the $200.00 mark but can be more or less depending on the manufacturer and additional accessories included.
Expect to pay more for custom tailoring. Wearing a customary Tweed Kilt Jacket with the accompanying clothing and accessories lets people see how even everyday dress in Scotland is still done with a lot of ceremony and splendor.
4) Doubled Kilt Jacket
The Doubled Jacket has a look that greatly resembles the uniformity and the seriousness of a military jacket. This jacket usually does not have lapels which make it uniquely different from other kilt jackets. Traditionally these jackets are made up of velvet, but modern trend is these jackets to be made of 100% wool instead.
The wearing of a lace jabot, a frilly decorative accessory worn around the neck, is very common with Doubled Jackets. Like Prince Charlie Jackets, Doubled Jackets are worn with the more formal, decorated accessories including the dress sporran and the dress again dubh.
Even though these jackets appear somewhat simpler, they have either gold or silver buttons. There are usually strips of braided material which complement the buttons and are seen on the shoulders, around the neck and down the front of this jacket.
There are a few varieties that this jacket can be found adding to the available options. The wearing of the Doubled Jacket is really reserved for either black tie formal events or the more elaborate white tie formal events.
This jacket truly illustrates a more formal, traditional and sophisticated aspect of the culture. With its look of importance, the Doubled Jacket brings to mind the strength and the power that Scottish citizens have displayed in the past when faced with adversity.
Some of the Best Budget Kilt Jacket Sets
Given the fact that a kilt jacket alone can cost over $200.00, it is quite of an investment to own your own traditional Scottish clothing. If you are not quite ready to make a significant investment in your Scottish wear, then there are cheaper options for you.
One option is to look for a starter kit which will include all the necessary pieces of clothing and accessories at a lower price. For about $150.00 someone can purchase a complete kilt ensemble leaving you ready to show your Scottish pride.
Kits such as these are particularly useful to someone who is not sure what type of occasion he will need a kilt for. Since kilts do not come with a jacket or a shirt, it allows the buyer to get the basics without committing on an exact jacket. Depending on the kit purchased, expect most to have at least a semi-dress sporran.
However, since this kit is just the basics, the buyer can easily upgrade and purchase additional pieces of clothing and accessories to achieve the look necessary for the given occasion. Remember that dressing in the traditional Scottish way is less about delivering warmth or comfort and more about being stylish in a particular Scottish manner.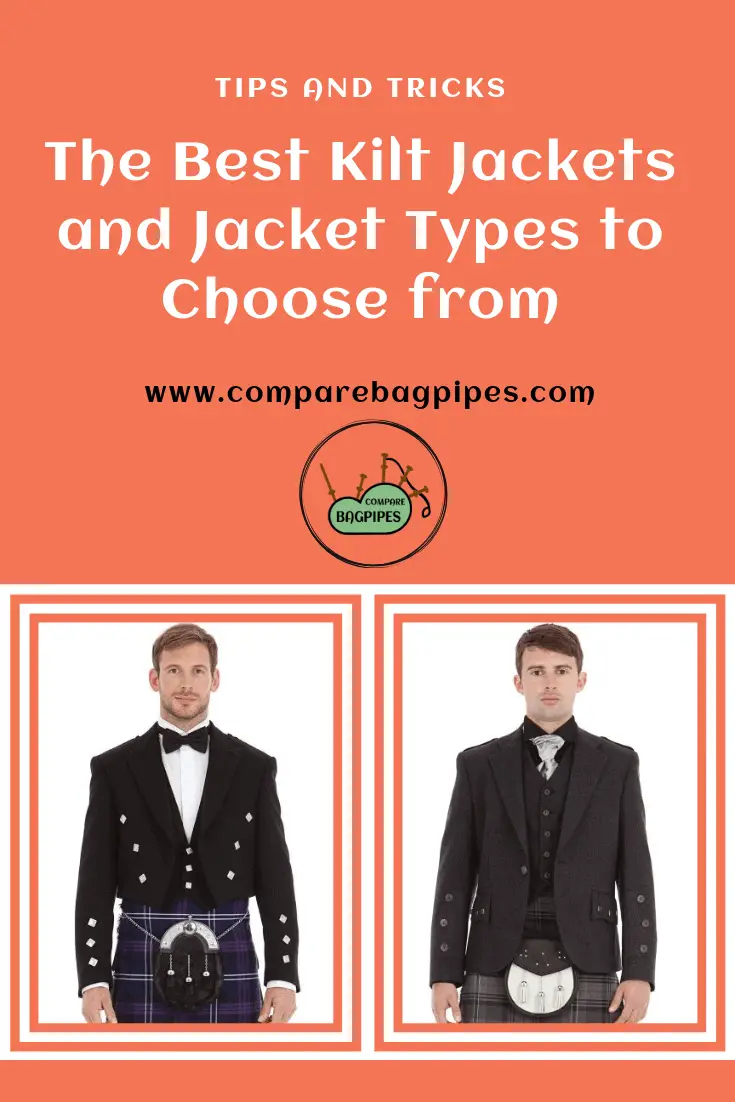 For this reason, it is best to take your time when selecting clothing and accessories so that you can ensure that you are dressing in genuine attire but also that you are dressing in an appropriate way. On the other hand, if someone is trying to show their Scottish pride but not willing to commit to the full ensemble this is a way to achieve that. 
Many pair their kilt with a t-shirt or something in their wardrobe so that they can both express themselves and their pride. This is acceptable for non-Scottish events and just for fun.
However, this should be avoided if attending a truly Scottish event that requires the appropriate traditional way of dressing. Either way, by purchasing a starter kit first, you can then begin building your Scottish wardrobe around your kit.
Final Thoughts on Kilt Jackets
In conclusion, I just want to reiterate the importance of dressing in the clothing styles that originated from Scotland when attending a true Scottish event. Remember that to those whose roots are firmly planted in Scotland; this is a part of their unique culture. It is a representation of their history, their heritage, and their ancestry.
To Scottish people, their wardrobe, the bagpipe, and their culture, in general, are ways for them to stand apart from others and show their respect, loyalty, and gratitude to their country. Embracing Scotland and all aspects of its culture can be incredibly fun and also very enlightening.
Take the time to learn more about the Scottish culture including the traditional Scottish wear as well as the bagpipe. You will catch yourself wanting to learn more and more!