If you are attending a traditional Scottish soiree and don't know what to wear, then this is the article for you. One of the most common types of traditional Scottish attire is called Highland Wear. This kind of highland dress has developed over time as other groups invaded Scotland with their fashion, articles of clothing, and ways to dress.
The Scottish took pieces from their invaders and adapted them to their climate and their lifestyle. This very distinct and recognizable style is likely attributed to changes over time rather than a set of historical period or an event.
The History Behind the Highland Wear
The history behind this type of dress, especially the kilt, is kind of interesting and engrained in some very historical events. An example is the "Dress Act," which was enacted in 1746 by King George II. Under this rule of law, King George II outlawed a kilt-wearing a kilt, claiming that it represented revolt and unruliness by the Scottish people. 
As you can imagine, this did not go well and instead made the wearing of it more necessary and a bold statement of their patriotism. Their garb with the traditional tartan or plaid was a point of pride and honor, which the Scottish enthusiastically and passionately defended. 
Here are two more specific and detailed guides to the men's and women's Highland Wear. This should give the reader more enlightenment and insight into the importance of the Scottish Highland Dress, as well as greater knowledge of their culture.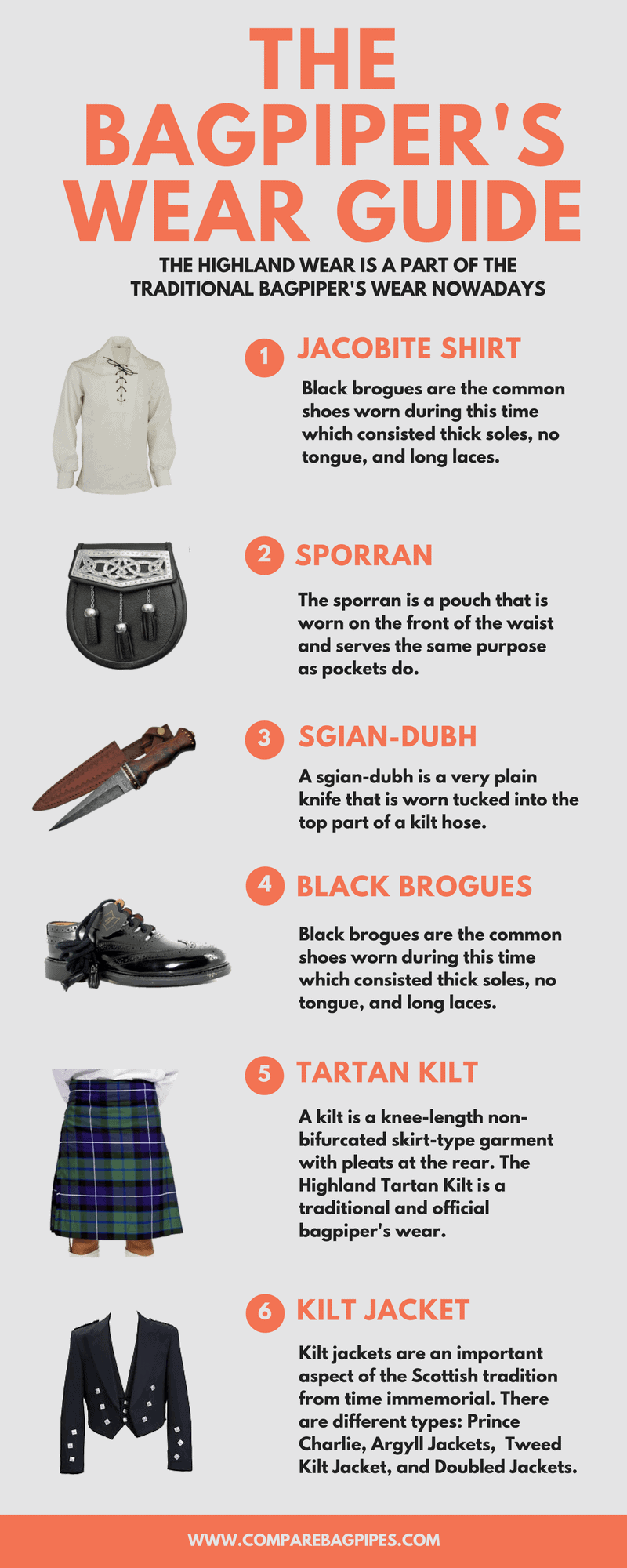 1. White Jacobite Ghillie Shirt
Men's Long-Sleeved Jacobite Ghillie Shirt
UT Kilts Jacobite Ghillie Shirt Cream X-Large
HONOR YOUR SCOTTISH HERITAGE: The Ghillie or Jacobite shirt has been a favorite casual option among kilt-wearers in Scotland for generations. It consists of a...
QUALITY SHIRT, AFFORDABLE PRICE: Here at UT Kilts, we take pride in offering top-notch clothes at great prices. You won't find a deal like this anywhere else! If...
COLORS & SIZES FOR ALL MEN: This authentic shirt comes in black, cream, white, green, and blue. With so many options, it's sure to match any kilt or historical costume....
Last update on 2023-09-25 / Affiliate links / Images from Amazon Product Advertising API
Made by UT Kilts, this shirt is made of a poly-cotton blend and has a loose-fitting collar. It is lightweight, feels comfortable, and comes in a variety of colors, including cream, blue, black, and green.
Whether you want to dress up as a pirate or you're simply proud of your Scottish heritage and wish to show it off, this is one item that you should have in your closet if you're looking for the best Jacobite ghillie shirt available.
The advantages of purchasing this shirt include:
At under $30, it is a true bargain;
It is a high-quality shirt that will last a long time;
It is available in sizes from Small to XXXL.
The disadvantages of this shirt include:
Some customers have claimed that the shirt runs smaller than is described online.
You may also wear black or sometimes charcoal gray jacket.
Pro Scottish LLC Prince Charlie Jacket Green with Three-Button Vest
With excellent quality and beautiful diamond-shaped buttons, this green jacket and vest set is quite a head-turner.
It is made out of wool serge that is a beautiful shade of green, and the vest has buttons with the rampant lion design on them. The best Prince Charlie jacket is usually made out of wool or a wool blend, and this one is no different.
The advantages of this jacket and vest set include:
High-quality wool that is guaranteed to last a very long time;
A beautiful, eye-catching look;
Unique pointed design at the bottom of both items.
2. Five Or Six-Button Waistcoat
Lucasini Men's Scottish Argyle Kilt Jacket with Vest
Last update on 2023-09-25 / Affiliate links / Images from Amazon Product Advertising API
This is the perfect Prince Charlie jacket and vest set and is made out of a polyester-wool blend. Both the jacket and the vest are lined with satin, and the vest has two separate pockets.
It consists of high-quality, sturdy buttons and even comes with extra buttons if the original ones fall off or break. The beautiful square buttons complement the entire look and make it a true head-turner.
The advantages of this jacket and vest set include:
High-quality materials meant to last;
A great, classic Scottish look;
A great value for the money.
The disadvantages of the jacket set include:
Some purchasers have had concerns about the overall quality of the item;
3. Black brogues
Men's Leather Piper Ghillie Brogues
Last update on 2023-09-25 / Affiliate links / Images from Amazon Product Advertising API
These high-quality piper ghillie brogues are made with real leather, including the lining. They are made by a Scottish-run company and have padded insoles for the best possible look and feel.
They also offer top-notch comfort and durability, so they should last you for many years to come.
The pros of these shoes include:
They are a very high-quality shoe;
They are very attractive and eye-catching;
Free returns are offered for some colors and sizes.
The pros of this shirt include:
The sizes listed are UK sizes, so that they can be a bit confusing.
4. Sporran
Double Embossed Scottish Black Leather Kilt Sporran
Last update on 2023-09-25 / Affiliate links / Images from Amazon Product Advertising API
Because it is made of real leather, it is often considered one of the best Scottish sporrans on the market. It is double-stitched and fits waists from 30 to 48 inches.
It also comes with a chain and an adjustable belt, and it is roughly 7" x 8" in size.
The pros of this kilt sporran include:
Large enough to handle keys, phone, and wallet;
Very reasonably priced;
Lightweight and portable.
The cons include:
Some users say that its look is not authentic.
5. Sgian Dubh
Last update on 2023-09-25 / Affiliate links / Images from Amazon Product Advertising API
SZCO Supplies DM-1077 Damascus Dirk Knife
With a decorative handle and a high-quality steel blade, this dirk knife is 14 inches long and comes complete with a real leather sheath. Researching the best sgian dubh means finding a variety of knives, including ones such as these.
The pommel, guard, and spacers are all made out of top-notch Damascus steel, and even its sharp-tipped blade is nicely decorated for extra attractiveness. Both attractive and functional, this is a great knife to have in your collection.
The advantages of this dirk knife include:
Its beautiful design;
Its high-quality materials;
Its convenient leather case.
The disadvantages include:
Some have complained about it breaking shortly after purchase.
6. Tartan Tie
Retreez Modern Tartan Bow Tie Check Styles Woven Microfiber Men's Tie
Retreez Modern Classic Plaid Check Styles Woven Microfiber Men's Tie - Black and Grey
Premium Modern Plaid Check Styles Woven Microfiber Men's Tie
Regular Size Neckties - Width: 8 cm / 3.15 inches, Length: 148 cm / 58 inches. Whether you're attending a wedding, party, church service, school event, or business...
Crafted by hand with meticulous attention to detail, this necktie is composed of premium 100% Polyester Microfiber, resulting in a luxurious, smooth, soft, and durable...
Last update on 2023-09-25 / Affiliate links / Images from Amazon Product Advertising API
Made out of polyester microfiber, this men's tartan bow tie is 58" by 3" and comes in a wide variety of colors and designs.
These are high-quality ties that are the perfect width, easy to tie, nice and smooth, and, therefore, very comfortable. They are also very reasonably priced, which means you can buy more than one of them without breaking the bank.
The advantages of this tie include:
Very reasonably priced;
High quality and durable;
Comes in a wide selection of colors and designs.
The disadvantages of this tie include:
Some buyers have complained that they are too small and thin.
7. Kilt Flashes
AAR Products Kilt Flashes with Heavy Buckles and Elastic Adjusters
Last update on 2023-09-25 / Affiliate links / Images from Amazon Product Advertising API
Made out of high-quality acrylic wool, these are one of the best kilt flashes for kilt socks and come in many different colors and designs. 
The best kilt flashes always help keep kilt hose in place because of how they are made, and this set of flashes is no different. They also have the perfect pointed design that most traditional kilt-wearers prefer.
The advantages of these flashes include:
They are durable and made to last;
They come in a wide selection of colors;
They are made to fit all kilt hoses.
The disadvantages include:
Some purchasers have complained about the low quality of the product.
Traditional Ladies Highland Wear
Unfortunately for the women, their wardrobe did not encompass nearly as many options or choices as men's Highland dress. Clothing for women within the Scottish culture consisted mostly of ankle-length skirts (kilts for women) with a blouse and a vest. Women were allowed to wear tartan.
Urban CoCo Best Kilts for Women
Sale
Last update on 2023-09-25 / Affiliate links / Images from Amazon Product Advertising API
Made out of polyester and cotton, this tartan skirt isn't exactly an authentic kilt, but if you're researching the best kilts for women, you might very well come across this one. 
It is fashionable and trendy, has an elastic waistband for the perfect fit, and comes in a wide selection of designs and colors. It is short in design but comfortable enough to wear to a variety of events, including everyday usage.
The advantages of these best kilts for women include:
Great quality and great price;
Cute and trendy;
Very reasonably priced.
The disadvantages include:
Some buyers claim if you're extra short, the skirt doesn't look right once you put it on.
Traditionally, a woman would wear their father's tartan pattern if unmarried and their husbands' tartan pattern if married. The worn shoes are called Ghillies, and they were very thinned soles and foldable with no tongue.
This structure made these shoes very suitable for dancing and also for wet, muddy weather.
Possible accessories could include a sash or a tonnag, similar to a shawl but somewhat smaller. Both could be pinned with a brooch that also represented their ancestry.
Gentlemen Highland Wear
1. Casual Highland Wear
For more casual occasions, a gentleman would wear a kilt with an accompanying shirt and a matching five-button waistcoat, which usually was tartan. The casual style also includes a tweed jacket usually made of wool, a sporran, garter ties, a sgian-dubh, black brogues, and hose for the legs.
Since some of these pieces of clothes might be foreign to you, I have described the unrecognizable ones. Once described, however, you will be surprised how much faster they become more recognizable to you.
The sporran is a pouch worn on the front of the waist and serves the same purpose as pockets do.
A sgian-dubh is a very plain knife that is worn tucked into the top part of a kilt hose. This knife was traditionally used for eating and cutting up various types of food.
Black brogues are the casual shoes worn during this time, which consisted of thick soles, no tongue, and long laces. The purpose of not having a tongue was for easier drying, given the wet, moist climate of Scotland.
The kilt hose is very similar to a higher sock that extends to just right below the knee. It should be noted that the hose was either Argyle, tartan, or a darker color for casual wear.
2. Semi-formal Highland Wear
The semi-formal wear was a bit fancier than the casual wear but incorporated with some of the same pieces of clothing. Along with a kilt, this outfit would include:
The sporran and the sgian dubh were the same types as what was worn for casual wear.
3. Full Formal Highland Wear
For a very formal night or an event, there were pretty strict guidelines about what traditional clothes should be worn for such an event.
Most notably, a gentleman would wear a black barathea or a jacket with silver buttons, a waistcoat, and of course, a kilt.
He would also wear a black bow tie, a silver chain with a sporran, a more ornate sgian-dubh, and brogue shoes. Even though many of these pieces are included in the casual and semi-formal dress, for formal dress, everything was more elaborate, intricate, and embellished.
4. Great Kilt Attire
The origin of the Great Kilt is dated back to 1594. This type of kilt was thicker and usually made from the wool of one's very own herd of sheep. It is probably the most recognizable kilt, but very few people know that this kilt traditionally did not come with a waistband to secure its fit better.
Instead, one would have to pleat the kilt to prepare it to wear and use a belt not to fall off. This kilt was held in high regard as it could take a full year to have the materials to make one.
5. Ancient Kilt Attire
If you are confused about what an Ancient Kilt looks like, then watch the movie Braveheart. What makes the Ancient Kilt so appealing is its lighter fabric, which is for a cooler fit.
The ancient kilt was not as frequently accessorized, with the person only wearing bracers, a leather vest, boots, and a Jacobite shirt.
The Jacobite was simple and loose with a somehow open neck that could be closed by a string. As with the Great Kilt, this kilt traditionally also does not include a waistband.
These kilts seem to represent more of what a warrior wears when entering battle.
Final Thoughts
I really hope that this article gives you a bit more knowledge and insight into the traditional highland dress of the Scottish Culture. With such a deeply rooted and fascinating history, it is no wonder that the clothing is so intricate and representative of Scottish history.
The Scottish clothing still represents pride, honor, and tradition. Nowadays, the Highland dress is worn proudly as a salute to the ancestry, heritage, and history of this unique country.
Whether you are just interested in the history of Scotland or attending a real Scottish fling, follow the guidelines above, wear the traditional clothing proudly, and you should be dressed appropriately for whatever the occasion is.
Read More: