Uilleann pipes, also known as Union Pipes, are traditional Irish-styled bagpipes.
These bagpipes are not as well known as Scottish Highland Pipes, which work by the player blowing into the bag.
The Uilleann Bagpipes are inflated using a set of small bellows that are placed under a player's arm. 
They are typically tuned to D, which is the most common key for an Irish diatonic accordion.
Additionally, this key works great with fiddles.
These pipes are also chromatic, which means that a player can play both whole tones and halftones within the two-octave range.
Top 10 Uilleann Pipes For Sale
When playing the Irish Uilleann Pipes, a lot of different movements of arms, hands, and fingers must be coordinated.
The bellows are usually operated by the right arm, while the left arm controls the pressure in the windbag.
At the same time, hands and fingers are used to play the melody on the chanter.
When playing a full set, the edge of the right hand is also used to operate the regulators.
For these reasons, the Uilleann Pipes are considered the most difficult but also the most expressive type of bagpipe.
Uilleann Pipes are usually made from African Blackwood or black ebony.
Besides that, there are also magnificent instruments made from boxwood, fruitwood like plum, or maple.
The metal parts are made from brass, silver, or nickel silver. The decorative rings used to be made from real ivory. 
Nowadays, mostly boxwood, cow horn, or artificial materials are used. More details can be found in the material section.
Uilleann Pipes have a different harmonic structure and sound "sweeter" than other types of bagpipes, such as the Scottish Great Highland Pipes. 
Investing in a high-quality set of pipes is the best way to ensure that you sound great when playing.
All of these pipes and components are designed to help you enjoy playing traditional Irish music.
1. Bagpipes 524 Uilleann Practice Pipes
Bagpipes 524 Uilleann Practice Pipes
Uilleann practice pipes - the first ever low cost practice set, bag, bellows and chanter
Made by bagpipes
Time honoured method of starting out in uilleann piping
Last update on 2023-12-11 / Affiliate links / Images from Amazon Product Advertising API
These are great practice pipes and offer the chanter, bag, and bellows, all at a low price, which is excellent for beginners as well as more intermediate musicians.
They are designed from synthetic materials, which results in incredible intonation as well as easy maintenance.
Thanks to the low weight of just over 3.5 pounds, they are perfect for taking on the go.
While they are made from synthetic materials, they are incredibly attractive and look natural.
The end result is a set of pipes that will make you feel like an advanced musician when playing them.
All of the components work well together and will last for a long time.
2. Irish Uilleann Bagpipes, Full Set, Blackwood
Last update on 2023-12-11 / Affiliate links / Images from Amazon Product Advertising API
Beginners who are looking for Uilleann pipes will want to consider the clear benefits of buying a full set so that they don't have to worry about low-quality components.
This full set of blackwood pipes is designed to offer a full and rich sound.
While the price is a little higher than other options on the market, they are designed to last for a long time.
They are in the key of "D" and ship with regulators, a case, bag, chanter, bellows, and drones.
This is everything that even a true beginner needs to start playing.
3. Uilleann Pipes Practice Set Bagpipes with Tutor Book
Last update on 2023-12-10 / Affiliate links / Images from Amazon Product Advertising API
Having a practice set of pipes makes it easy to play on the go and perfect your sound, even if you don't have your high-quality pipes with you.
Thanks to the leather bag, this is a great practice set that provides a full and rich tone.
Additionally, the rosewood was chosen to add to the beauty of the pipes and to ensure a clear and true sound.
The black carry bag makes transporting these pipes easier than ever.
One reason that beginners will love this set is that it ships with a tutor book, which helps any user start playing right away.
4. Uilleann Pipes for Sale
Uilleann Pipes
Uilleann Pipes Practice Set With 4 Keys Chanter
For Sound Samples Visit; Uilleann-Pipes.Net
All You Need To Play This Beautiful Instrument Is Included In This Kit
Last update on 2023-12-11 / Affiliate links / Images from Amazon Product Advertising API
Everything you need to start playing the pipes is available in this kit, which is great for beginners or users on a budget.
While the airbag, chanter, bellows, cover, and chanter reed are all high-quality, this kit is surprisingly affordable.
There are four brass keys so that musicians can easily handle all notes on the chromatic scale.
The bellows and the airbag are made from real leather, lending a traditional and impressive feel to the instrument.
Because it is handcrafted, it features incredible attention to detail that sets the kit apart and makes every instrument unique.
5. Irish Uilleann Bagpipe Practice Set 3 Key Chanter Booklet
Last update on 2023-12-10 / Affiliate links / Images from Amazon Product Advertising API
This is a practice set of Uilleann pipes that have been made from African Blackwood.
It has a wide range of two octaves from a low to a high D.
The three nickel keys included in the chanter allow musicians also to play C, G#, and an F note.
The airbag is synthetic, but it is easy to take care of and will last for a long time.
It ships with a practice chanter made from rosewood and two synthetic reeds, two cane reeds, and more.
Additionally, the included booklet makes it easy to learn how to play.
6. Irish Uilleann Bagpipe Practice Set (Starter) with 3 Keys Chanter (African Blackwood) Uilleann Pipes by Hakam Din
Last update on 2023-12-10 / Affiliate links / Images from Amazon Product Advertising API
This updated model looks great and features an impressive chanter range as well as gorgeous African Blackwood.
With everything you need to play included, even beginners can start making music right away.
It is designed to be comfortable to hold and easy to play with, with a thick airbag and bag cover and even a carrying case.
The included instruction booklet is clear and easy to understand.
With a range of two octaves as well as three additional notes, musicians will enjoy an impressive range and sound with this instrument.
7. Uilleann Practice Chanter, Rosewood
Rather than using a complete set of pipes when you simply want to practice your sound, breath control, and fingering, musicians can use a practice chanter.
This gorgeous chanter is handcrafted so that it is perfectly designed for use by beginners and professionals.
It's made from solid rosewood and features an adjustable plastic tube.
This tube can easily be cut to the right size to ensure that the practice chanter is easy to use.
Additionally, the chanter fits on a starter set, saving time and money later.
8. Roosebeck Ebony Uilleann Chanter w/ Keys
Last update on 2023-12-10 / Affiliate links / Images from Amazon Product Advertising API
High-quality craftsmanship defines this gorgeous solid Indian ebony chanter.
It features three brass keys and ships with one reed so that users can start playing music right away.
Additionally, it fits on a starter set so that it can be used with a number of pipes.
The brass keys move easily, allowing musicians to play as quickly as they want to without feeling limited by their instrument.
Additionally, the sound of this chanter is smooth and clear, thanks in part to the chanter's design and the wood used in its construction.
9. Uilleann Drone Reed Set, 3, Carbon Fiber
Last update on 2023-12-11 / Affiliate links / Images from Amazon Product Advertising API
Made from aluminum but strengthened with carbon fiber tongues, these reeds are designed to help you improve the sound and playing with using pipes.
They are lightweight but responsive and incredibly easy to switch out of your current setup.
This is great for musicians looking to change their tone and sound.
Thanks to how easy they are to tune, musicians can enjoy a pleasant droning sound that is perfect for beginners as well as more advanced musicians.
Thanks to their size and design, they are designed to be easy to use no matter how long you have been playing.
10. Uilleann Bagpipes Chanter Reeds of Spanish Cane 6pcs/Uilleann Pipes Reed/Reeds
Each of these reeds has a copper piece and copper stable on the blade, which helps strengthen the blade and allows the reed to produce the best possible sound.
They are made from Spanish cane and are handcrafted to ensure that they all meet the high standards of pipers.
Not only are they attractive, but they are relatively easy to put into your pipes, which means that you can adjust your sound and update it when desired.
As an affordable option, they are perfect for any musician looking to try a new reed and who wants to feel the sound and control they can get from a Spanish cane option.
As you can see, when looking for great Uilleann pipes, you have a few options. Consider one of these sets or components to improve your sound.
Understanding The History Of The Uilleann Pipes
According to the fifth-century Brehon Laws, the earliest bagpipes found in Ireland were mouth-blown and used by peasants.
The musette-type bellows-blown bagpipes did not become popular until the seventeenth century.
These bagpipes were loved by upper and lower-class musicians in Ireland and France.
During the early eighteenth century, the harp lost its place as the preferred instrument in Irish music and was replaced by the Uilleann pipes.
During the later eighteenth century, the keyed chanter, regulators, and new refinement emerged as bagpipe makers, including the Egan of Dublin.
This resulted in one of the most sophisticated bagpipes in the world. Bagpipes in Ireland have a history of more than 13 centuries.
The ancient Irish annals refer to a cuisleannach (pipe blower).
It is unknown when the bagpipes originally appeared in Ireland; however, it is believed that the first bagpipes were similar to Scottish bagpipes.
The Uilleann bagpipes are distinctively Irish and are derived from an older form of pipes.
This type of bagpipe is considered one of the most sophisticated and complicated bagpipes in existence today.
The present form of these bagpipes first emerged in the early part of the eighteenth century.
A full set of Uilleann bagpipes contain a bag, the chanter, the bellows, and three regulators.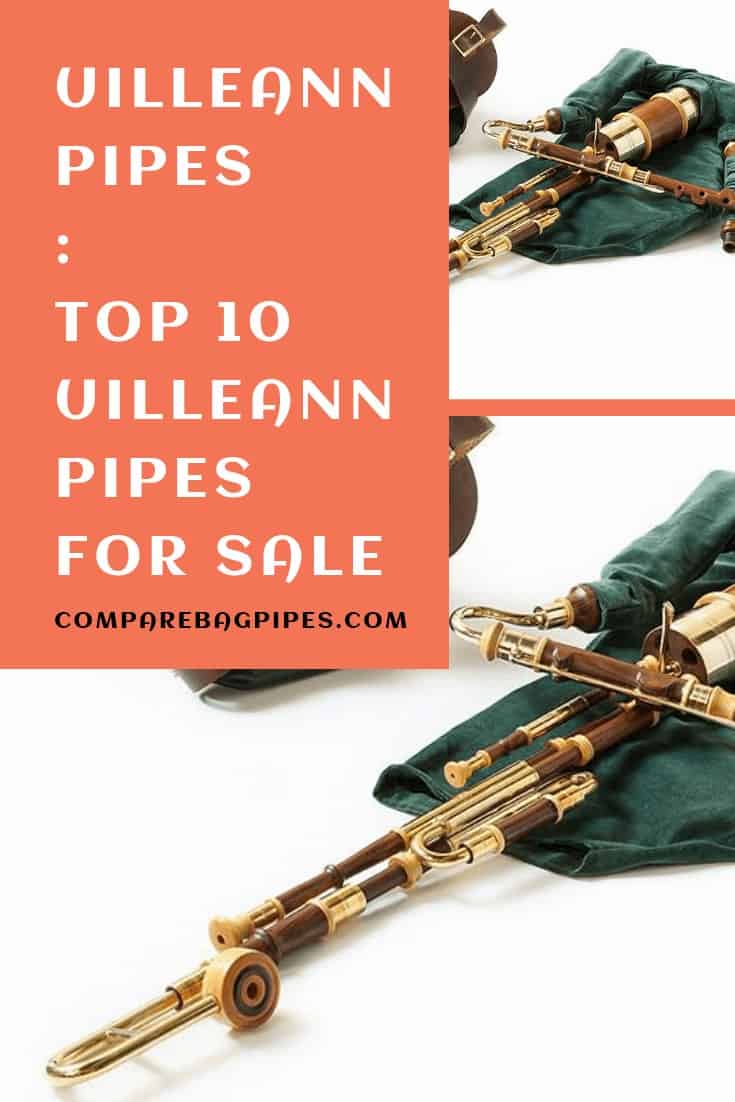 The Bag
Unlike Scottish bagpipes that are mouth-blown, the Uilleann uses bellows to inflate the bag.
The chanter offers a range of two complete octaves, which is larger than Scottish pipes that only offer a range of nine notes.
The pipes are typically tuned to concert pitch, extending from the D key above middle C on the piano.
There are seven finger holes on the front and a thumb hole on the back.
The Drones Create Bass, Tenor and Baritone Harmonic Accompaniment
The drones, tenor, bass, and baritone feature unchanging tones played throughout the melody.
The regulators (bass, tenor, and baritone) are placed across the player's thigh so that it can be depressed using the lower hand that is using the chanter.
The key arrangement is in rows, which allows the player to do a single harmonic accompaniment of the melody.
The Pipes
The bagpipes are played while sitting.
The player will strap the bellows to the right elbow, which allows the player to pump air into the bag.
The airflow is then controlled using the left elbow, which allows the player to change the octave of the piece.
The chanter is then placed on the player's right need, which allows the player to use the right wrist to control the drones while playing the bottom notes of the changer.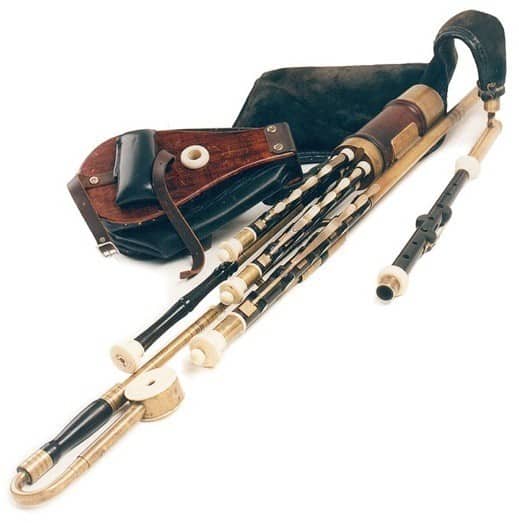 This allows full accompaniment of the regulators.
The Uilleann bagpipes are considered one of the best bagpipes in the world.
They offer a sweet, mellow tone when they are played.
FAQs
Now, let's take a look at the frequently asked questions below.
1. What Do Uilleann Pipes Sound Like?

The Uilleann Pipes produce a sweeter and quieter sound than Scottish Great Highland Pipes, which are also known as Great Irish Warpipes.

The Scottish Great Highland Pipes have been used in outdoor settings, including the battlefield, while the Uilleann pipes are typically used for playing music indoors.

2. How Do Uilleann Pipes Work?

The Uilleann Pipes work similarly to other types of bagpipes.

There is a bag that holds air, bellows that are squeezed to allow air to enter the bag, and a chanter that looks similar to a recorder.

The chanter has finger holes that the musician uses to play the melody. The air flows through the chanter to produce the correct notes needed to play the tune.

Additionally, there are drones.

Drones allow the musician to play a constant note during the song, which is typically the root note of the chord that the pipes are tuned to.

Finally, the regulators are additional pipes that the musician plays to create chords.
3. How Is Uilleann Is Pronounced?

Accents and dialects vary significantly throughout Ireland, so there are several different pronunciations of the word Uilleann.

The most common pronunciation is ILL-Yun, which is pronounced like million.

Additionally, Uilleann can be pronounced ILL-in, which sounds like a villain.

The root of Uillean comes from the Irish word Uille, which means elbow.

This is because the bag of the Uillean Pipes is inflated using the musician's elbow.

If you are concerned you are mispronouncing it; you can use the Olde English name for the pipes- Union Pipes.
Listening To Uilleann Pipes
If you would like to hear a sample of Uilleann Pipes, check out some recordings of The Chieftains.
The bandleader of the group is Paddy Moloney.
Paddy is considered one of the best pipers specializing in Uilleann Pipes.