The fact that it is so convenient to carry around is one of the major reasons why most people choose to learn how to play the harmonica. Harmonicas are so popular that you will find thousands of harmonica sellers both online and locally.
So, if you are looking for the best harmonicas for yourself, then chances are you are overwhelmed with the huge number of choices you have.
1) Swan 7 Keys Blues Diatonic Harmonica (Set of 7)
They are made with copper reed plates along with stainless steel. With ten holes and 20 notes, they are perfect for beginners who are looking to play in many keys with ease.
Pros:
Quick pick up for diatonic playing;
Variety of keys at a low price;
Perfect for blues and jazz;
Can provide versatility.
Cons:
Additional sound features like bass notes and echoes can be played well with this one.
2) Swan Harmonica in C Key
It is made with a brass reed section with a precision-engineered slide. It is plated in eye-catching chrome, which gives it a wonderful look.
It comes with ten holes and 40 tones. If you want to play more than just one key from the get-go, then this will be the right harmonica for you.
Pros:
Perfect for a varied range of styles like film, pop, blues, and rock;
It is durable and sturdy
For a chromatic harmonica, the price makes it a cheaper option.
Cons:
Problems have been seen in the case of intonation.
3) Swan Mini Harmonica Key of C Blues
This C key harmonica comes with ten holes and 20 tones. It can produce great sound and is made with the stainless-steel cover plate for added durability.
This is a great option for a beginner looking for a budget-friendly option or a beginner looking for the right blues harmonica.
Pros:
It is an affordable diatonic harmonica;
Comes with a copper reed plate for extra strength;
Perfect for beginner blues players.
Cons:
Cannot produce additional sound quality.
2) Fender Brand
If you are looking for a harmonica that can work well along with a guitar or if you are looking for a good blues harmonica options then you should choose any one of these two:
4) Fender Blues Deville Harmonica
This C key harmonica is perfect for those who are looking for a good sounding stylish harmonica. The design of this harmonica is great.
The tones and pitch are richer in this one because of the precision phosphor bronze reeds and PVC molded comb.
Pros:
It can provide excellent sound quality;
It is perfect for beginner blues player;
The craftsmanship is top-notch.
Cons:
Without much practice, higher notes will be harder to produce on this one.
5) Fender Blues Deluxe Harmonica, Key of C
This C key one from Fender is perfect for a beginner looking for a budget-friendly yet high-quality harmonica.
It can produce a classic pitch and tones. This is because of the brass reeds and PVC comb.
Pros:
It is very comfortable to play this one;
It is an affordable blues harmonica;
Perfect for both beginner and pro blues player.
Cons:
2) Hohner Brand
As mentioned before, they are considered as one of the best harmonica brands of all time.
6) Hohner 7565 Chromatic Mesiterklasse Harmonica in the key of C
This one comes with an anodized aluminum comb that provides great sound quality and durability.
It comes with 56 classic Chromonica reeds and has the same tonal range as that of a violin. It comes with 14 holes.
Pros:
Great sound quality;
It is durable and sturdy;
It has an exceptional tonal range.
Cons:
It is on the expensive side.
7) Hohner Super Chromonica (270BX-G)
This one is chromatic, so a player can learn to play many notes and keys with this harmonica.
This one is perfect for those beginners who have mastered the art of playing the diatonic harmonica.
Pros:
The wooden body provides great sound;
It looks stylish;
This is G key harmonica.
Cons:
It comes with only three chromatic octaves.
8) Hohner Blues Band Harmonica (1501Bx)
This is available in Key of A, C, and G. With the C key one, you are getting 20 brass reeds.
They are perfect for someone who has never tried playing the harmonica. They are also great for kids.
Pros:
Best as a beginner harp;
Very easy to play;
This is an affordable diatonic harmonica.
Cons:
The design is not that stylish.
9) Hohner Diatonic Harmonica (560PBX-EF)
This will be the best harmonica for you if you are looking for an affordable professional one. It comes with 20 holes with responsive reeds.
Pros:
It is made with German quality making it stylish and durable;
It is quite affordable;
It allows for a range of styles.
Cons:
Many have mentioned issues with intonation.
10) Hohner Marine Band Harmonica
This one happens to be one of their leading models. This one has been used by many well-known musicians of the past.
The wooden comb provides a rustic and classic look. It is perfect for anyone who is looking for a professional diatonic harmonica.
Pros:
Notes can be bend to achieve the blues style;
It is a very versatile harmonica to have;
The price is affordable.
Cons:
It is limited to a single key as it happens to be a diatonic harmonica.
Picking the Right Harmonica for You
It is highly recommended that you research your purchase before you invest in it. This is the best way to ensure you have indeed made the right purchase for you.
Thus, today this harmonica buying guide will provide everything you needed to know before purchasing your very first harmonica. From tips to advice to 10 best harmonica reviews, everything is covered in this guide.
Harmonica Buyer's Guide for Beginners
Buying your first harmonica can be difficult. Thus, this guide is here to help you choose an appropriate one that suits your taste, preference, and budget.
Before reading the review section to select a harmonica for you, let's quickly learn some pointers to select the right one for you out of the lot. So, without further ado, here are:
The Best Harmonicas for You
Before you can select the harmonica to buy, you need to figure out what kind of music you want to play. So, at first, you need to figure out the purpose of your harmonica.
There are many beginner's options available, but it will be best to consider a chromatic harmonica for you if you want to play all the notes. Anything else will limit your note, creating ability.
Now, if you are interested in jazz or blues, then instead of a basic blues scale, try a chromatic harmonica. Even though most people will disagree, chromatic harmonica will provide you more freedom of keys and notes that will make your chromatic one best for blues playing.
If you are looking for some quick outcomes and just a melody line, then a 10-hole diatonic harmonica will be your best option. They are best for playing a simple range of notes. In fact, this kind is the best sounding option for creating beautiful melodies. They also have easy outcomes that are perfect for learning. This kind is just what you need to learn and master the skill.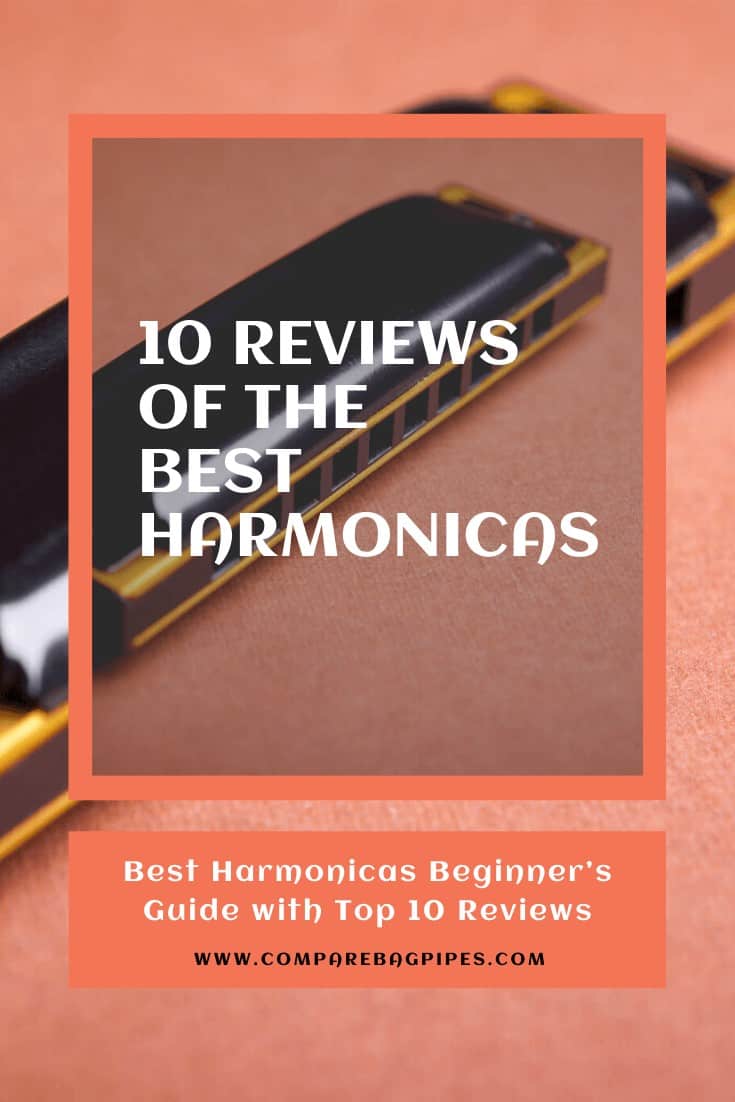 W
hat are the Different Types of Harmonicas
By now, you must have this question running through your mind. So, next, let's check out the different types of harmonica
1) Tremolo Harmonica
This type plays straight melodies almost. However, you can play additional bass notes to harmonize the melody. It is easier to play than the Echo Harmonica, and you will get the same effects with this one.
2) Echo Harmonica
It is known for producing sounds that sound similar to an organ playing. This type is designed in such a manner so that at the same time as the melody, an underlying rhythm has been played over the top.
3) Chord Harmonica
With this one, you can play a set of notes just by blowing through a single hole in order to play a chord. In order to add more weight to the melody playing by a harmonica, this kind of harmonica is used in ensemble pieces.
4) Bass Harmonica
They mainly play bass notes. In lower octaves, this type of harmonica has a pitch register. Other than that, their function is similar to that of chromatic and diatonic harmonicas.
5) Chromatic Harmonicas
Every semitone in the chromatic scale can be played by this type of harmonica. With this one, you will have a variety of chords and keys to play with. If you can read all the notes, then playing the melody lines correctly with this type will be a breeze.
6) Diatonic Harmonicas
The sound produced by this one sounds similar to blues music. Diatonic harmonica can bent notes quite easily, providing that blues effect. They can be tuned to each key, even minor keys. This type happens to be the most common and popular type.
Learning to Play the Harmonica
There is a line of holes on one side of the harmonica. To play this instrument, you first must rest your lips around this line, and then you have to blow out (or suck in) to get the note you wanted to play.
As you will move up the holes, there will be an increment in semitones and tones. If you suck on a hole, then this will produce a chord a fifth higher than what was produced by blowing into that same hole.
This is the case for most harmonicas. So, you can see now that, in order to achieve a perfect cadence, you have to stay in the same place and then first suck in and then just blow out.
Playing harmonica will be much easier for you if you know how to read notes. In most cases, it has been seen that those who know how to read music tends to get harmonica faster than people who don't.
Building up chord will depend on the type of harmonica you have with you. So, depending on the kind you have, you have to either move the air through one or more holes at a time. And this is where a beginner may face difficulties. However, practicing for just 10 mins a day will do the trick; this is the beauty of harmonica.
How to Play a Blues Pattern
First, either pick a pattern or come up with your very own. Then all you have to do is repeat that pattern in different ways.
Here it is important to mention that choosing the right harmonica for the purpose is essential. Once you have the right one with you, playing a blues pattern will be achievable.
What are the Best Harmonica Brands
As there are thousands of harmonica sellers, so you can guess that there are hundreds of harmonica manufacturers. So, finding the best brand will be a futile and long process.
There are many great harmonica brands out there, and next, a list has been provided of three brands that are known for their skilled craftsmanship and great quality. This list is provided to help you understand what these brands have to offer:
1) Swan
This brand is quite popular for being a brand that offers good quality harmonicas at a cheap range. Thus, this brand happens to be the choice of most beginners.
The good value for money offered by Swan has helped this brand top most lists of best harmonica brands. If you are on a budget or just want to try harmonica as a hobby, then this brand is for you.
2) Fender
The brand is well-known for their guitars. This brand is also quite famous for its great selection of harmonicas. Fender usually manufactures harmonicas that can be played along with the guitar by keeping the harmonica on a holder.
Thus, perfect for blues players. In fact, Fender has earned a name for producing harmonicas with which amazing bluestones can be produced. Their products are reasonably priced and suit the needs of most beginners.
3) Hohner
Hohner is considered as the most loved brands for harmonicas. They are known for producing different diatonic harmonicas that are sold with different names. When it comes to quality, Hohner takes the cake.
And this is also the reason why this brand is the go-to choice of both beginner and professional players. Their harmonicas are beautifully crafted and produce great sound.
How to Select the Best Harmonica for You
Once you are familiar with the different types of harmonica, selecting the best harmonica according to your needs becomes easier.
As mentioned before, first you have to know what style of music you want to play with the harmonica. Once you know that, figuring out which type of harmonica to choose from will be easy.
So, if you are looking for ringing tones to play, then you should go for echo harmonica. Similarly, if you want to create a melody, then it will be best to go for a diatonic one.
Best Beginner's Harmonica
The best beginner's harmonica should help you to become proficient in the skill of sucking and blowing the notes. Besides this, it should also help you learn quickly how to place your lips in the correct places.
Diatonic harmonica happens to be the easiest harmonica to play. This is because of the key of C, which makes reading music much easier. Many suggest it to be the best harmonica for beginners as you can learn how to play a pattern on this harmonica quickly and easily.
Once you get the hang of things, you should then consider going for a more complicated harmonica like an echo or chromatic one. These harmonicas are the best to add that another level playing element, which also helps you to master the art of playing the harmonica.
Best Beginner's Blues Harmonica
Depending on the sound you want to produce, you have to choose a blues harmonica. There are many great options for blues harmonica. As mentioned before, chromatic harmonica can be a good option.
When choosing a blues harmonica, do try to go for such harmonicas that can bend notes. You also have to make sure that notes can be swooped into others easily. For this reason, even diatonic harmonica acts as a good blues harmonica for beginners.
Can You Begin with a Chromatic Harmonica
If you choose the best chromatic harmonica for you, then chances are it can provide you a range of notes like no other type. But they can be a bit difficult for beginners when your other option is a diatonic one. In fact, you will require a lot of skill to play a chromatic harmonica perfectly.
If you go for a chromatic one, then it chances are you will face more challenges than a diatonic one. But once you get the hang of it, you can play in all pieces and that too with great proficiency.
If you are not too confident with chromatic yet want to try out something other than diatonic, then you can go for tremolo or echo. These harmonicas can add different effects and timbres which you are looking for.
Professional Harmonica
A professional harmonica is a beginner's hand who has the thirst to become the best will be the right tool. There will be space for special needs in the best professional harmonica. They happen to be quite expensive.
But the price is worth it as you are getting customization options. It will be tailored to fit all your harmonica playing needs. And of course, the craftsmanship of these harmonicas are top-notch. Thus, it is highly recommended that you get a professional harmonica as soon as you feel that you have mastered the skill.
Reviews of 10 Best Harmonicas
The harmonica reviews that have been provided here are for you so that you can make the right purchase decision. From the easiest to play harmonica to the best jazz harmonica, there is something for everyone in this list:
1) Swan Brand
This budget-friendly option is best for anyone who is looking for affordable and easy-to-learn harmonicas. Some of the best ones from these brands are:
To Conclude
So, there you have that everything which a beginner must know about harmonica to make the best purchase.
Now, all you have to do is think about what style of music you want to produce by the harmonica, draw up your budget, and go through the reviews one by one again to find you the right first harmonica for you!
Read More: