Bagpipe music is coming back in a big way with a surge of popularity. The bagpipe's unique structure and smooth sound make it an extremely trendy and a popular choice, especially with the younger generation's ability to access bagpipe music and learning tools on the web easily. 
Learning the bagpipe has become more convenient and more feasible than ever. Gone are the days where an aspiring bagpipe musician would have to search far and wide to find a suitable teacher. Even though having a live instructor is very helpful, there are ways to get started without one.
Bagpipe Music History and Origin
The origin of bagpipes cannot be determined with exactness, but clues are found within literature, art, and remnants from a long time ago. It is widely thought that this instrument can be traced far back to pre-Romans time.
For example, sculptures of bagpipes have been found in the Middle East on a Hittites slab, likely dating back to 1000 BC.
The bagpipe is also thought to be referenced by Ancient Greeks as well as Romans. The bagpipe's popularity quickly grew and spread as it was mentioned more and more in literature and art. In the widely popular The Canterbury Tales (1380), the bagpipe was specifically mentioned, further adding to its reputation.
In recent years, this instrument's expansion has continued, used in rock, punk, and hip-hop, with well-known musicians such as Paul McCartney using this instrument. With a magical and mystical past, this instrument leaves people interested in learning more about it, such as how to play bagpipes and where did it come from.
Below is a brief description of the different music styles that the bagpipe has been used in and how it has been a part of many different cultures.
But first, let's take a look at:
The Top 10 Songs with Bagpipes. Enjoy!
1. Masterblasters by Victoria Police Pipe Band
Last update on 2023-12-11 / Affiliate links / Images from Amazon Product Advertising API
The trust of whether or not a CD is good is when you listen to it like a broken record still loves it.
This CD passed that test while I was on a 24-hour drive back from a bagpipe competition in Canada. Full of variety and great piping, this CD always makes me want for more.
2) Thunderstruck by Gordon Duncan
Last update on 2023-12-11 / Affiliate links / Images from Amazon Product Advertising API
Gordon Duncan, for me, is the Jimi Hendrix of bagpipes. I love every song on this CD, with most of it written by Gordon himself.
3) Live at Carnegie Hall – The Simon Fraser University Band
Last update on 2023-12-11 / Affiliate links / Images from Amazon Product Advertising API
I got to see the band in concert when I was around 14 years old. They were so good then, and I was starstruck enough to ask for Jack Lee's signature.
But seriously, these guys are high performers.
4) 2014 The World Pipe Band Championships
Last update on 2023-12-11 / Affiliate links / Images from Amazon Product Advertising API
I have a love-hate relationship with the CD recordings of the world bagpipe championships. I love that there are so many talented bands playing at their best.
I hate them after some time because they all start to sound the same. I love these CDs because the songs come in short doses.
5) Inveroran by Stuart Liddell
A fresh and clean player, when I first listened to the first tune on the album, the first thought that came to mind was how good it was, and the tunes only get better as the album moves along.
6) Re: Charged by Field Marshal Montgomery
The Field Marshall Montgomery bagpipe band holds the record of winning the most number of championships in the last 20 years.
They are currently the champions. If you happen to be in Glasgow, make sure to listen to their concert.
7. Tartan Weave by the Scottish Power Pipe Band
Last update on 2023-12-11 / Affiliate links / Images from Amazon Product Advertising API
The Scottish Powerband has always been a top contender at the worldwide pipe band championships, and in this CD, you will find them in full-quality playing.
8. Spirit of the Glen by The Royal Scots Dragoon Guards
Sale
Spirit Of The Glen
Audio CD – Audiobook
12/12/2023 (Publication Date) - Fontana International (Publisher)
Last update on 2023-12-11 / Affiliate links / Images from Amazon Product Advertising API
If you loved the songs from the Last of the Mohicans, this CD is for you. It features the songs "The Gael" and "Mull of Kintyre."
Most of the songs on the CD are a combination of bagpipe tunes other instruments.
9) X-Treme by Chris Armstrong
Last update on 2023-12-11 / Affiliate links / Images from Amazon Product Advertising API
Chris is one of the top bagpipers who currently sits as the Pipe Major of the Scottish Power Pipe Band.
X-treme is a nice blend of fast-paced bagpipe tunes and modern sounds. I'm not a fan of all the songs on the CD. However, it has a lot of good stuff in it.
10. The 78th Fraser Highlanders Live In Concert
Last update on 2023-12-11 / Affiliate links / Images from Amazon Product Advertising API
I bought this one in cassette tape version, and I loved it, to the point where I listened to it over and again until my family got tired. This was one of the first albums I ever bought, and this has always been on my top ten list. The 78th Fraser Highlanders are exceptional performers with a long history marked by championships. This performance was recorded before they won the world games.
Live in Concert in Ireland was one of the first bagpipe CDs I ever owned. Actually, I think I owned the cassette tape version of it. Anyway, I absolutely love this recording, and much to my family's dismay, I have listened to it repeatedly. The 78th Fraser Highlanders are an exceptional band with a long history of winning championships, and this particular performance was recorded just before they won the world games.
Scottish Bagpipe Music and Scottish Bagpipe History
Most people often relate the bagpipe to the Scottish culture when bagpipes are generally mentioned. Most famously, the Great Highland Bagpipe has its origins in Scottish culture and has made its debut in Scotland around 1400 AD. Another type of bagpipe that is said to have originated earlier in Scotland is the Lowland Bagpipe.
The difference between the Great Highland Bagpipe and the Lowland Bagpipe is how the air is used to produce music. The Lowland Bagpipe actually requires the musician to push the air out of the bag rather than breathe air. Both types of bagpipes are suitable for playing jigs and marches, yet they have distinctly different sounds.
The development and use of the Great Highland Bagpipe and the Lowland Bagpipe actually follow the landscape of Scotland, with the first being played by those living in the highlands and the second being played by those living in the lowlands.
This difference shows how the Scottish people's geographical division actually resulted in cultural diversity, especially in their music. The extremely popular Great Highland Bagpipe is generally played at more outdoor events due to its louder, more boisterous sound.
This contrasts with the Lowland Bagpipes, which produce quieter, calmer, sweeter music and are usually played indoors while sitting rather than standing.
There are movements within Scotland to preserve this important part of their culture. This is particularly true for the Lowland Bagpipe, which almost completely disappeared from existence for a long time.
An organization such as the Lowland and Borders' Piper Society has promised to bring new popularity to the Lowland Bagpipe so that its rich history can continue with the widespread playing of this specific bagpipe.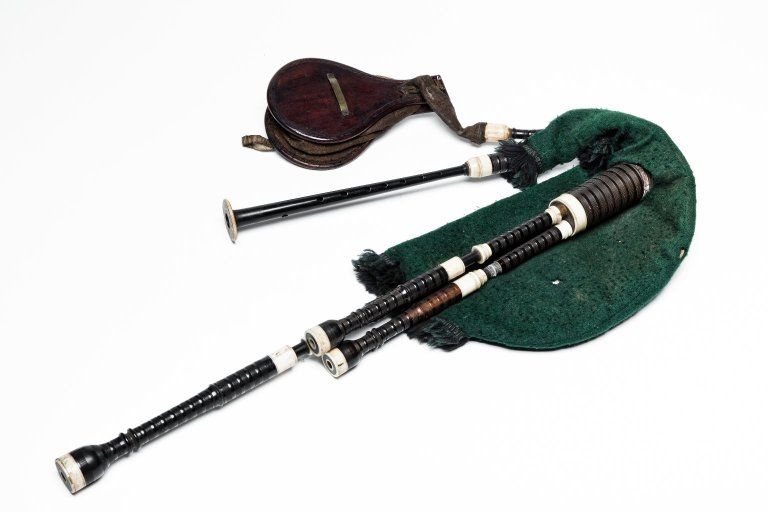 Bagpipes are often heard around Scotland, whether it is just a small group walking down the road, a jam session at a local pub, or a band of bagpipers playing at Highland Games.
Such sounds indicate that the Great Highland and the Lowland Bagpipes are still a large part of Scottish culture. This rich tradition has successfully spread worldwide, with others embracing and appreciating these two different instruments.
Bulgarian Bagpipe Music (Gaida) and Bulgarian Bagpipe History
The Gaida (gaida means bagpipe in Bulgarian) originated in the Balkans and southeastern Europe and is still considered Bulgaria's national instrument.
This instrument has not only remained beloved but, unlike some other types of bagpipes, it has never lost its popularity. These bagpipes look distinctly different because their bags are made of the skin of a goat or a sheep.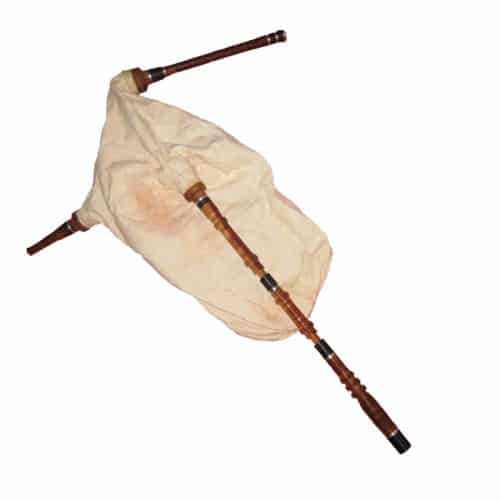 Additionally, the bag is larger, which produces unity with the chanter and the one drone, a lower-pitched sound that many describe as haunting and earthy.
This fitting considers its birth and popularity in the Bulgarian mountains, where it could be heard loudly echoing its unforgettable melody. Today it is no different as it still can be heard in these mountains using the acoustics of the various hills and valleys to make a unique and incomparable sound.
The Gaida is particularly suitable for Celtic, Classical, and Folk music. It was originally used mostly for dancing, and it still can be heard at weddings, likely leading the guests as they follow the melody of the song.
Popular albums such as the Devil's Bagpipe, Gaida Prayer, and Wild Stories illustrate the ongoing wide use of the Gaida Bagpipe. These albums embrace this instrument's versatility by incorporating its sound in anything from fast dance songs, folk songs to slow melodies.
Bulgaria's native people truly pride themselves on their culture, which is especially true of the bagpipes and music produced in this country. There are ongoing movements to preserve the history of the bagpipe in Bulgaria and expand its use, making it more evolved for modern times and music.
To illustrate the enthusiasm, 333 Bulgarian bagpipers gathered in 2012 to set the world record for the largest bagpipe orchestra ever assembled. Today, modern albums such as those mentioned above continue to utilize the rich sound and history of the Gaida while still producing tunes and melodies that are incredibly popular.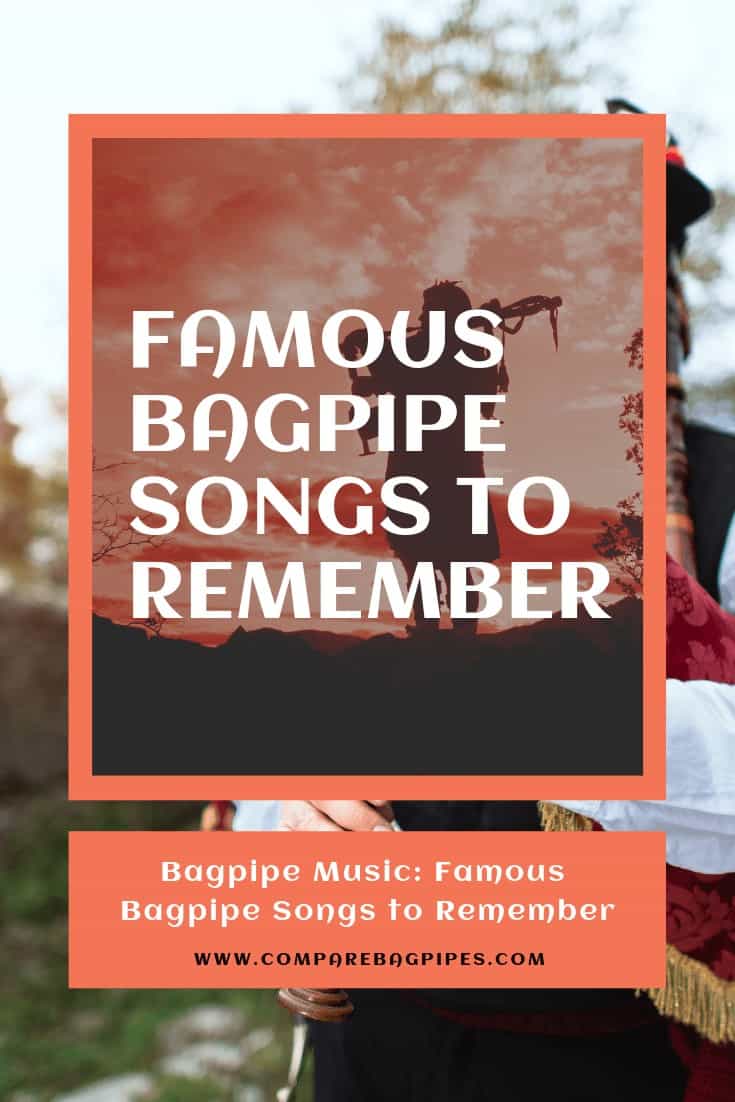 French Bagpipe Music and French Bagpipe History
The French Bagpipes really do come in a wide variety of shapes and sizes. Some produce sound by breathing air into the bag, whereas others produce sound by squeezing air. Either way, what makes the French Bagpipe unique is that the tenor drone is next to the chanter rather than by the bass drone.
The varieties of bagpipes seem to differentiate by location. One particular region in France, known as Brittany, has been particularly instrumental in keeping the bagpipe popular and relevant in the French culture.
With two types of bagpipes that are both credited with originating in Brittany, this region is widely known for the unique music. The veuze (the veuze is a Breton bagpipe) is comparable to Western Europe's bagpipes and shares many similarities with the Gaita.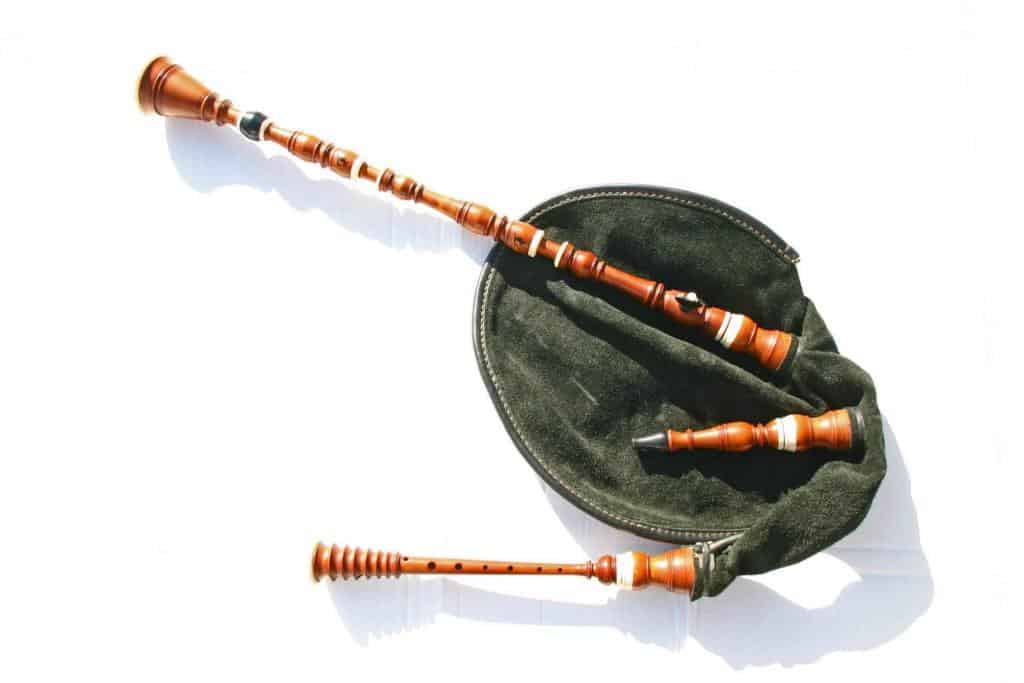 On the other hand, the biniou kozh is most similar to the Scottish Great Highland Bagpipe with a very high pitch and only one octave.
Through literature, it is thought that the veuze originated sometime in the 1600s, with the biniou following later. Another French bagpipe, the cabrette, originated in central France and only dates back to the 19th Century.
Bellows were not originally attached to this type of bagpipe but were added in the mid-19th century by Joseph Faure. The original mouth blow style of this bagpipe was not useable to Faure, who had been previously diagnosed with lung cancer. Due to this difficulty, Faure got the idea to add the bellow to make it easier after using the bellow to start a fire.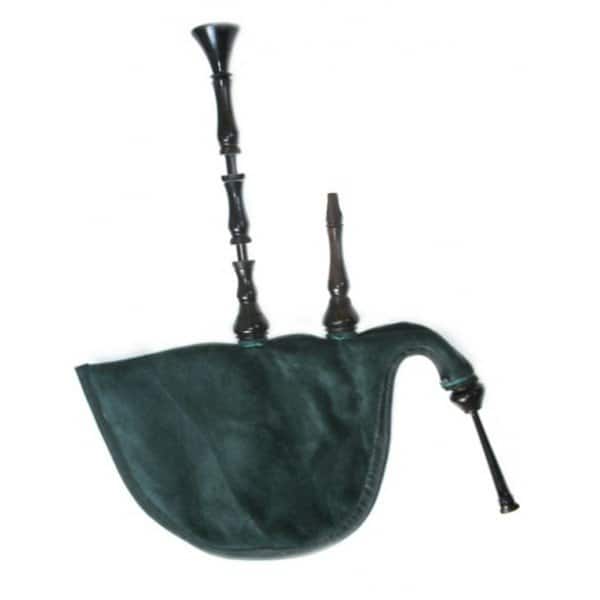 In France, the opportunities to learn and really study the bagpipe in depth are not a problem. Music schools focusing just on learning bagpipes as a musical instrument, can be found all over the country.
From the Conservatoire Occitan located in the city of Toulouse to the School of Cabrette located in Paris, bagpipe musicians are definitely in the heaven of bagpiping.
The knowledge and bagpipe musicians instill the bagpipe deep within the French culture. At festivals, particularly in the region of Brittany, bagpipes with their unique sound and history continue to be celebrated and appreciated.
Italian Bagpipe Music and Italian Bagpipe History
A truly distinctive bagpipe, the Italian Bagpipe, also known as the Zampogna, is made of drones and chanters attached with round stock. The much larger bag is then attached to this stock, making this part of the bagpipe appear more compact than others. Encompassed within the word Zampogna are many different double chantered bagpipes that mostly originated in the South of Italy.
The story about this bagpipe is that the Zampognas ("shepherds") would return home from the mountains for Christmas but on their way, these shepherds would stop at nativity scenes and other shrines to play a carol.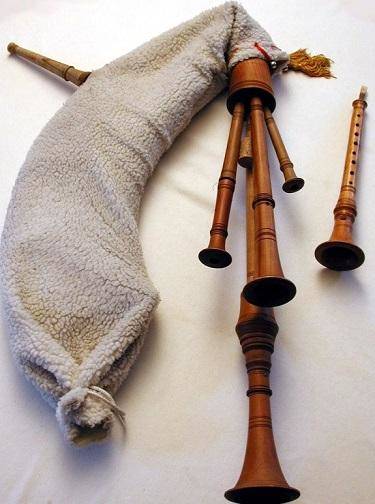 To carry on the tradition and the history, the Museo Della Zampogna continues to educate its visitors about the bagpipe's place in Italian History. The Zampogna was also featured in a 2010 documentary titled Zampogna: The Soul of Southern Italy.
As you can see, the tradition and stories associated with the Zampogna show a deep connection with the Italian culture. This is not surprising given this already rich Italian culture.
Bagpipe Music Books
Many aspiring bagpipe players have been left to teach themselves due to a few bagpipe teachers. Luckily, the internet, instructional CDs, and instructional books have made this learning process very easier.
One of the highest recommended instructional books is The College of Piping Highland Bagpipe Tutor Part 1 Book, also known as The Green Book. This book has lessons that build upon each other, leaving the student able to play some simple melodies and have a basic knowledge of the nine notes.
Another highly recommended option is The National Piping Centre Bagpipe Tutor Book. This book also comes with a CD and lessons that help the beginner to progress faster.
Famous Bagpipes Songs
The bagpipe has continued to be used in traditional bagpipe music as well as nontraditional music. It is still used for pieces composed specifically for bagpipes songs, and sometimes it is adapted to bagpipes songs that were not.
Final Thoughts
Many probably already guessed that the theme song for the movie Braveheart was composed for and played by bagpipes. Even though it is said that Irish bagpipes rather than Scottish bagpipes were used in composing this piece, this is a great example of how a modern movie utilizes the bagpipe music.
Very often, people relate the bagpipe with someone wearing a kilt and a large fuzzy hat. Surprisingly, the bagpipe is ingrained in many different countries' music, not just the obvious one.
Many countries embrace the bagpipe and consider it a welcomed and loved instrument within their culture. This article was eye-opening and educational, giving more knowledge about bagpipe music, its origin, and its place in music.